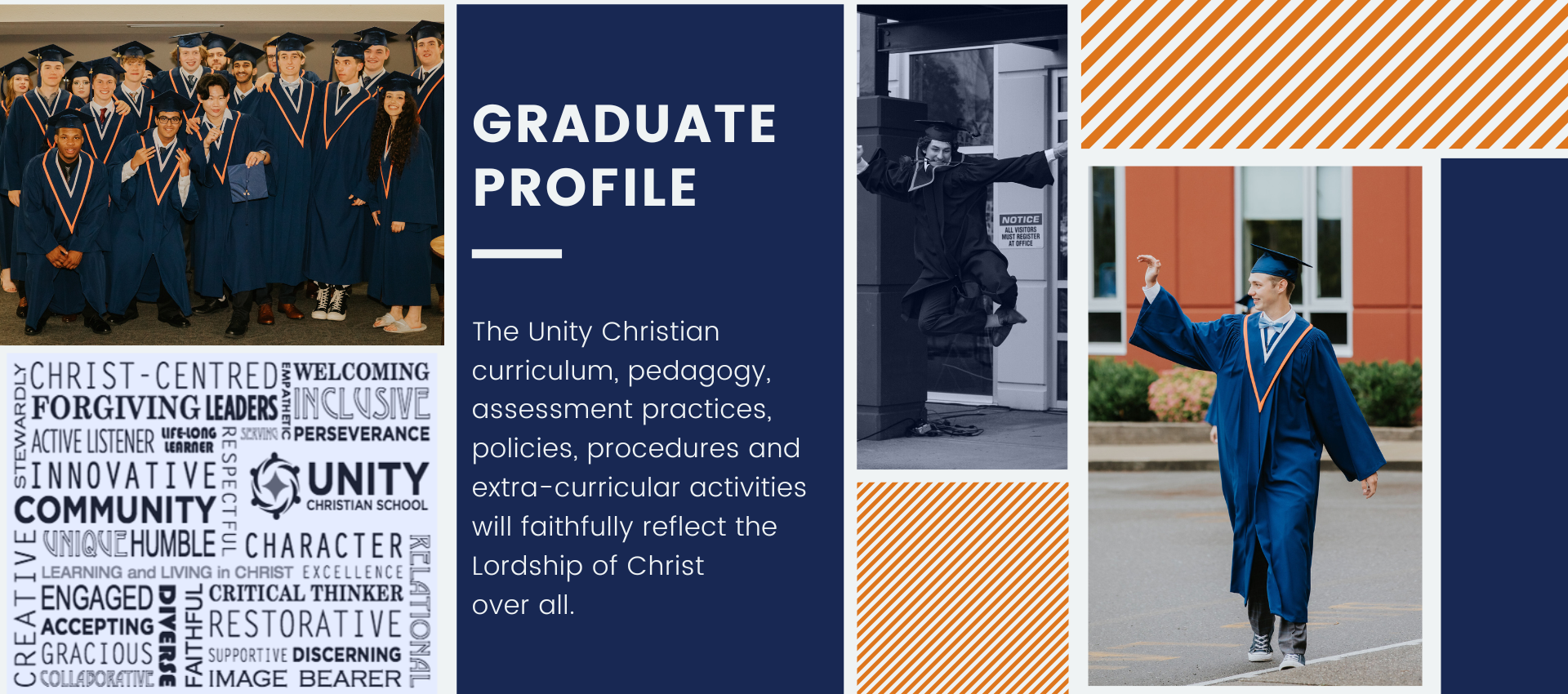 DEDICATION OF OUR ALL TO GOD
The Unity Christian curriculum, pedagogy, assessment practices, policies, procedures and extra-curricular activities will faithfully reflect the Lordship of Christ over all.
Unity Christian graduates will:
compassionately strive to restore creation
be humble servants of God in families, neighbourhoods, communities, nations and the world
be stewards of God's world
love and respect themselves and others as image bearers of God

COMMUNITY
Unity Christian seeks to engage students, parents, employees and alumni in the enterprise of learning; all focused on the same outcome of learners equipped with faith and prepared to serve the school, the community, and wherever the Kingdom needs them.
Unity Christian graduates will:
collaborate with and positively contribute to community
recognize their gifts to further God's Kingdom both globally and locally
love their neighbour as themselves
recognize that they are created as relational beings
celebrate the joy and need of being in a supportive community

GRACE
Unity Christian seeks to transform the life of each student, where each one's experience is recognized, story is heard, and potential, talents and abilities are discovered and nurtured.
Unity Christian graduates will:
know that they are loved as unique children of God
extend and receive grace
recognize, respect, and seek to understand the diversity of opinions and viewpoints
develop empathy towards caring for others both in local and global communities

ACCEPTANCE and INCLUSIVENESS
Unity Christian welcomes families and students of all Christian traditions as well as those who demonstrate a sincere interest in the Christian faith. Unity Christian seeks to include within its community those students with special educational needs who possess varying learning abilities or come from diverse racial/ethnic backgrounds.
Unity Christian graduates will:
have an appreciation and understanding for the uniqueness of others
demonstrate respect for others, even when they have opinions and ideas that differ from their own
recognize the God-given skills and gifts of others and encourage one another in these abilities
be a respectful communicator and an active listener
recognize opportunities to enfold others, particularly the more vulnerable

CHALLENGE
Unity Christian seeks to engage, challenge and instruct students in ways distinctive to each, according to their unique academic potential and learning style.
Unity Christian graduates will:
be lifelong learners, willing to take risks to learn and grow
positively develop their skills, knowledge, and attitudes
develop and use their gifts to respond to God's calling, becoming who God wants them to be
be creative and innovative
persevere through prayer and dedication
desire to be intentionally excellent

DISCERNMENT
Unity Christian believes in the importance of students who are critical thinkers and able to engage our culture through a lens of faith. Therefore, the Unity Christian community seeks to be a safe but not sheltering place.
Unity Christian graduates will:
be enveloped in a Christian worldview that seeks to engage with the world in which we live
be Biblically literate
be able to articulate their faith and live it out
think critically as they make life decisions